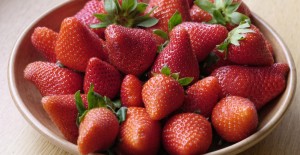 We are delighted that we have an abundance of local grown produce available at the moment for both home deliveries and also wholesale supply.
We are currently collecting fresh local berries on a daily basis from Groves Farm (in between Runcton and Bognor Regis) and from a new local supplier to us in Nutbourne, Pulbourough. Nutbourne Place Farm's strawberries are superb and pack a full sweet flavour, expertly grown and in recyclable punnets. Alongside this they are also providing us with beautiful cucumbers, artichokes, lettuce and asparagus! With more produce to follow - we are excited!
Nutbourne Tomatoes are available and one our seasons favourite, they officially are the tastiest tomato in the UK and are insecticide free.
Our core asparagus grower in Midhurst are going strong with graded asparagus harvested on a daily basis for us, but make the most of it as the seasons end remains close.
Certain varieties of lettuce are now from Hampshire with great taste and a long lasting quality, also harvested for us on a daily basis.
Hairspring Watercress from Southbourne are still providing us with beautiful watercress, which we collect every day of the week.
Local brassica's will start soon enough and will be sourced from our long standing producer in Chidham - quality has always been phenomenal!
We hope that everyone has been keeping well during these unprecedented times and we are hugely appreciative of the support from all of our local customers.