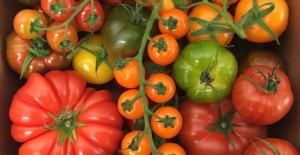 As we enter the more promising months of the year - we have a lot to look forward to. Firstly the easing of 'Lockdown' and of course the start of core local grown produce!
With the coldest spring on record we unfortunately have a slight delay in local grown and English produce. Usually by now, we would have been receiving our first deliveries of local loose Grade A asparagus, however this is expected to start within the next 2 weeks.
The famous Nutbourne tomatoes are now in stock and available for all wholesale and retail customers - volumes are slightly limited to begin with, of which should improve as time goes on. You haven't had a tomato, until you have had a *Nutbourne Tomate*. Gary and Jenny have spent most of their life, perfecting the best heritage range we have ever seen and tasted. Flavours and quality is simply fascinating.
Local strawberries are now available from Runcton/Groves Farm, they simply taste superb. Raspberries, blackberries and blueberries to follow in due course once the warmer months arrive.
We had a site visit at Nutbourne Place Farm this week to view the early stages of their produce for this up and coming season - Cucumbers, raspberries, strawberries, asparagus, padron peppers, jalapeno peppers, artichokes and more - grown with attention to detail! Watch this space for updates, once available.
Our local growers in Chidham and Bosham area will be supplying us with brassicas and root veg this year- along with all other local growers, we will be collecting on a daily basis. The range will be increased as the months move on.
Certain mixed salad leaves, rocket, spinach and whole heads of lettuce will be sourced from our growers in bosham, last spring. With Hampshire grown fancy lettuce heads, starting very earlier summer.
Feel free to get in contact with us for any enquiries regarding local produce.
01243 672121 / 672722 info@munneries.co.uk