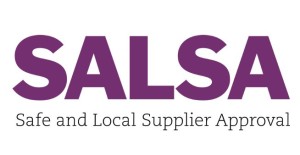 New Accreditation!
We are delighted to announce that we have now received SALSA Accreditation.  This is an independently audited food safety certificate.
The scheme is based upon a stringent audit, the fundamentals of which are product safety, legality, quality and due diligence, and is a nationally recognised food safety assurance standard
SALSA, or Safe and Local Supplier Approval, is administered and operated by The Institute of Food Science and Technology, on behalf of the British Retail Consortium, The British Hospitality Association, the Food and Drink Federation and the National Farmers Union.
This accreditation further enhances our commitment to provide our customers with the very best possible quality and service through a food safety scheme which is endorsed and supported by government and the industry.